SUPER-FIVE.COM is an online trading brand wanting to provide safe, simple, and fast crypto trading technology. At the present time, the platform enables access to tens of different cryptocurrency instruments.
SUPER-FIVE.COM puts an important emphasis on crypto and wants to offer its clients a reliable trading solution to get involved in one of the fast-growing and the most challenging markets in the world.

To trade cryptocurrencies successfully, traders need a wide array of tools. SUPER-FIVE.COM not only wants to provide them that but at the same time, it wants the trading ecosystem to be well suited even for fresh beginners still learning how to trade crypto. It does so via comprehensive trading software and some other features we'll be describing in the next few paragraphs.
Trading Platforms
Flexibility is one of the keywords when it comes to cryptocurrency trading and because of that, SUPER-FIVE.COM has developed a proprietary web-based trading platform. It does not require any installation and can be accessed at any point, and in just a few seconds.
The brand is fully aware that most of the traders use multiple devices to trade. With the FronTrader by SUPER-FIVE.COM accessing the markets is done quickly, without having to lose precious time, especially when prices are volatile.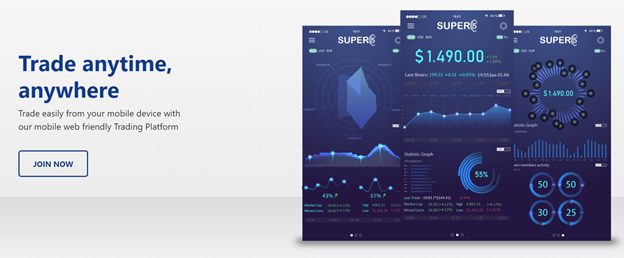 Among the features, we must emphasize, advanced charting stands out in a huge way. Powered by TradingView, the charts integrated into the SUPER-FIVE.COM platform are some of the best, providing all the tools to conduct technical analysis professionally. Drawing tools, multiple chart types, time frames, indicators, Fibonacci levels, all are available in the highly versatile charts.
Since cryptocurrency trading requires a lot more than that, SUPER-FIVE.COM also offers a news service directly into the platform, where traders can see the latest market highlights provided by CNBC. They can place asset alerts, create favorite asset lists, or contact the customer support, all features integrated into the platform. To fund an account, there's no need to log into the dashboard since a simple credit card deposit can be done quickly from the platform as well.
SUPER-FIVE.COM trading platform is compatible with any device, even smartphones or tablets, as long as traders can use a browser to log into. There's no interface or screen where this platform does not fit. At any point, you can have a grasp on the market and notice if new trading opportunities occur.
Account Types
In order to allow easy access to the cryptocurrency markets, SUPER-FIVE.COM does not have highly complex account types offered, as the brands prefer simplicity. All customers will get access to a standard account, incorporating all the trading features currently available. In order to trade, any individual must deposit at least $200 via one of the methods available: credit/debit cards, wire transfer, or cryptocurrency. The maximum deposit via credit/debit card is currently set at $1,100.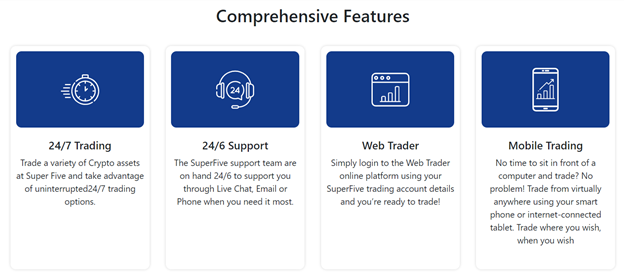 The same three methods can be used to make withdrawals from one's account. However, in this case, customers need to pass the verification process before proceeding with the withdrawal request.
To get verified, each trader must provide a copy or scan for a photo ID, proof of residence, and proof of payment (in case they want to withdraw money using a credit card). For a credit card withdrawal, the minimum amount is 100 USD/EUR/GBP, and for a wire transfer withdrawal, it is currently set at 250 USD/EUR/GBP. SUPER-FIVE.COM reserves the right to process each request within 10 business days.
Cryptocurrency Assets
Promotions
Based on the information provided by SUPER-FIVE.COM, there is no active promotion available for existing or new customers. It is possible, though, that at some point in time, the brand will start to offer trade compensations for various reasons and in accordance with terms and conditions.
Education
SUPER-FIVE.COM is a cryptocurrency trading brand worth considering by traders looking to gain broad exposure to the crypto market, having to choose from many different large-cap tokens and popular altcoins.
With the SUPER-FIVE.COM offer, you can trade crypto with leverage and benefit from some of the most liquid cryptocurrency instruments. Also, the SUPER-FIVE.COM web platform is a promising trading tool designed specifically to meet the challenges of the crypto market. We did not find any incriminating proof with regards to SUPER-FIVE.COM and because of that, we will label this brand as reliable. As time goes by, we'll continue to update our current review with relevant new data about the brand's offer.
SUPER-FIVE.COM Review

Product Name: SUPER-FIVE.COM
Product Description: SUPER-FIVE.COM is an online trading brand wanting to provide safe, simple, and fast crypto trading technology. At the present time, the platform enables access to tens of different cryptocurrency instruments.
Offer price: 100$
Currency: USD / EUR / GBP
Offer URL: https://super-five.com/en
Trading Platform

Languages

Spread

Support