Introduction
Owned by Key Way Solutions Ltd, Clicktrades is an online trading operator, which offers services for bonds, commodities, forex, indices, shares, and ETFs. The company operated at a global scale but does not establish accounts for residents of Japan, Canada, and the United States. It is a relatively new online broker, being founded in 2018.
At the time of writing, the company has 2100+ instruments on its list and relies on a proprietary web platform. Their offer is decent, but not the best in the market, with some of the spreads above average. However, overall, any person who wants to get involved and trade the markets can do it with Clicktrades, given the series of features enable access to a wide range of markets.
Trading Platforms
Clicktrades relies on a single web-based platform, which has a version for Android devices, as well. According to the information available on their website, the platform is high-tech and user-friendly, designed to allow trading sessions from a wide range of assets.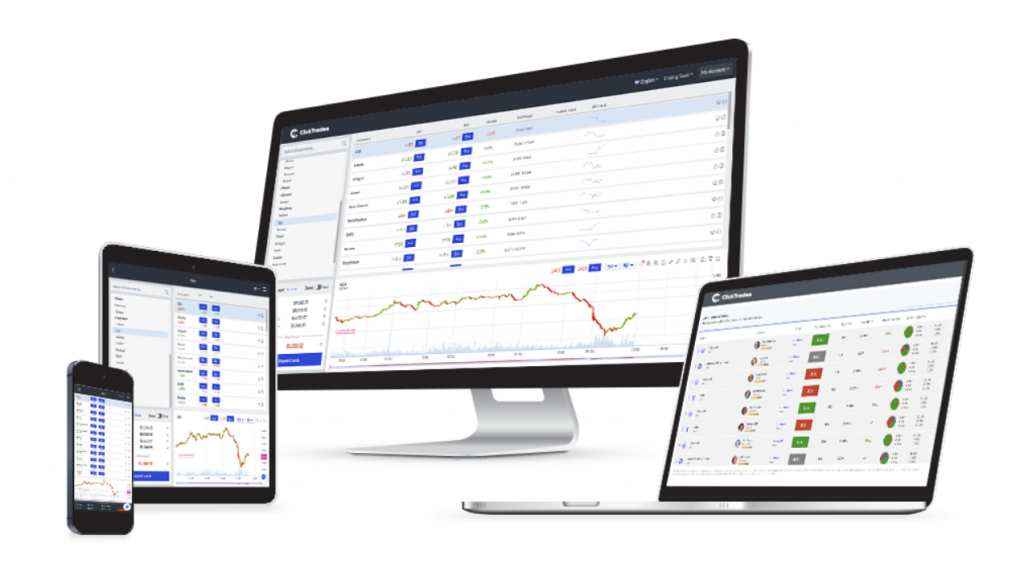 The features pack include mostly what other platforms have. Advanced chartist methodologies, risk management tools, user-friendly trading system, negative balance protection, and the Trading Central built-in (a popular technical analysis tool providing complex indicators).
It is a minus for those with iOS devices, given that the platform is not currently compatible. Also, for people who want to use desktop platforms, that's not the case with Clicktrades. In the end, all platforms have strong and weak points; it is what each trader wants that counts the most. For some, the Clicktrades platform will be exactly what they need.
Account Types
Clicktrades offers three different account types: essential, original, and signature. In order to open an essential account, the minimum deposit is currently set at $1,000. Among the most important features daily market reviews, full access to the video library, and dedicated account representatives are the most important.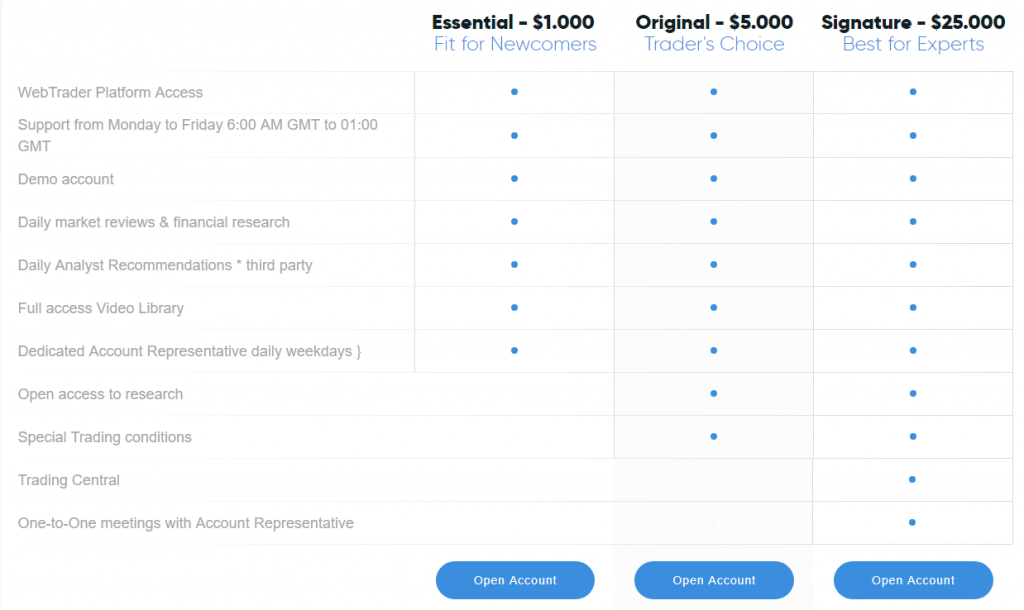 For original and signature accounts, open access to research, special trading conditions, access to the Trading Central, and one-to-one meetings with the account representative are included. Given that these two accounts require much bigger deposits, you can start with an essential account and if you think it's worth, you can make an upgrade at any time by depositing more.
Promotions
Currently, Clicktrades offers deposit bonuses for customers who want. Up to $5,000 can be received, with terms and conditions in place. If you want to have a bigger account balance and don't plan to make withdrawals soon, claiming the bonus will be helpful. However, make sure you've read all the details on the broker's website before you make the decision.
Education
All Clicktrades clients will get access to a video library with plenty of information about trading. Both beginners and advanced traders will be able to learn new things and enhance their trading performance. The most important educational tool, however, is the Trading Central, but it is only available for Signature account holders at the time of writing. Overall, the company offers access to educational material like any other reputable brokerage company.