Introduction
MGC Logic is a dedicated cryptocurrency trading platform, owned and operated by New Olimpia Inc. At the present time, the company offers services only for crypto-assets and does not facilitate the purchase or sale of the underlying instruments. Basically, the clients buy and sell derivatives and generate returns based on price fluctuations.
Since it focuses solely on cryptocurrency trading, it operated on a targeted niche, offering decent trading features. Spreads may be lower as compared to most of the traditional brokers who included crypto among other instruments, but with MGC Logic, clients won't be able to diversify with other asset classes. Still, the platform covers more than 30 crypto pairs, both fiat, and cross, accepts various fiat payment methods, not just Bitcoin, and offers access to a wide variety of educational material.
Trading Platforms
The company relies solely on a proprietary web-based platform. This will be a great choice for those who don't want to install any software on their devices. Compatible with any browser, for desktop and mobile, the platform has a user-friendly interface and advanced charts provided by TradingView. Clients can use without any problem any kind of technical analysis since all the tools have been integrated.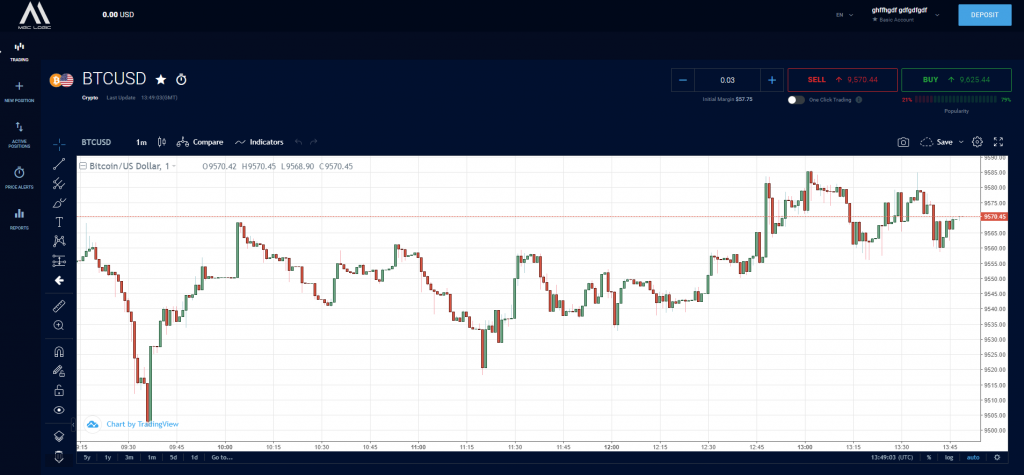 Since it's web-based, no expert advisors can be used. However, if you want to apply technical setups, the MGC Logic platform will fit your style. It also enables price alerts, one-click trading, and has a built-in popularity indicator, which can serve as a measurement of the market sentiment at any given point in time. Overall, the platform looks to be tailored especially towards beginners, given that it does not require a lot of knowledge to use it.
Account Types
A basic account at MGC Logic is designed especially for beginners and can be opened with $250. Clients who choose to open one will get access to pro webinars, price alerts, daily market review, and educational center, among other features.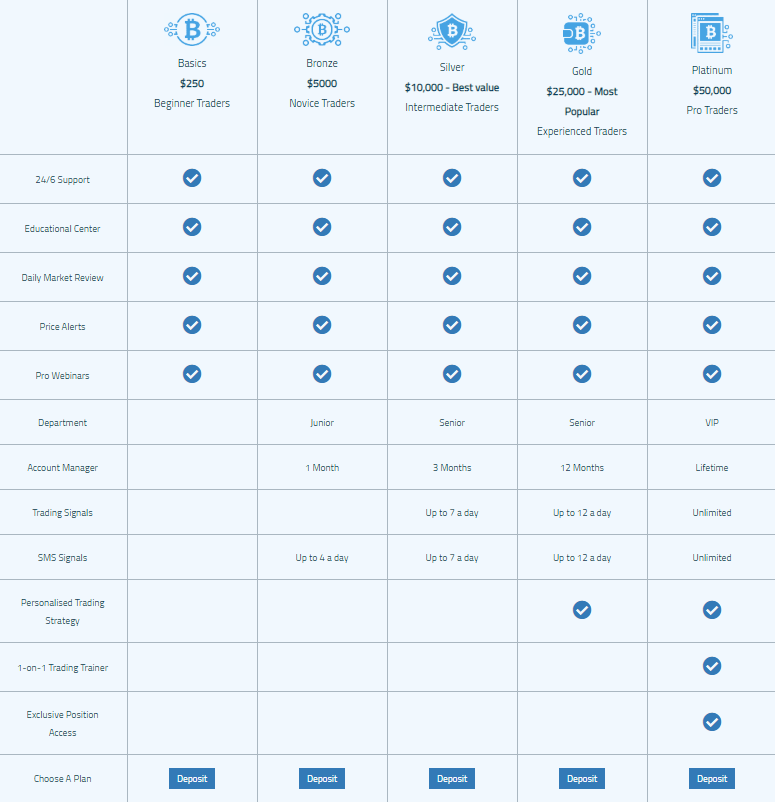 The company has a complex account types structure, with bronze, silver, gold, and platinum available as well. Clients will have to commit more capital in exchange for a bigger set of features. Account manager, trading signals, and exclusive position access are just a few of them.
Promotions
According to the information available on its website, MGC Logic can offer bonuses for its clients from time to time. No risk for the first trade and first trade bonuses, instant cash bonus, trading insurance bonuses, and deposit bonuses are possible. As always, please don't forget to read carefully all terms and conditions associated with these bonuses, in order to be fully aware of everything you must accomplish.
Education
MGC Logic stands out with the variety of educational material it offers. Traders news, weekly market review, asset index, video chart analysis, calculators, technical analysis, fundamental analysis, trading signals, crypto signals, and crypto glossary are currently available.
If you are at the beginning and you want to learn the basics of cryptocurrency trading, you'll find everything you need in one place. We must notice that MGC Logic does not offer a lot of advanced information about crypto trading.
Assets You Can Trade With
If a person chooses to go with MGC Logic, there is no settling at any time. All the most popular assets in the world are supported, including the likes of Bitcoin, Litecoin, Ethereum, Bitcoin Cash, Dash, Ripple and more. With so many popular cryptocurrency options, it makes sense to go with something that supports all the best ones.
There are very few trading platforms that are as open to different cryptocurrencies as MGC Logic. A lot of competitors only offer trading opportunities with the major players. By opening up the door to the big names and the ones rising the ranks, the goal is to embrace all cryptocurrency traders and offer them a singular place to do their business.
Every account has this opportunity to trade every asset as well. Some competitors limit the number of assets someone can trade with on the smaller accounts, but the opportunity is there for everyone to use what they want, when they want. From the Basics account to the Platinum and even Black, that part does not change. Obviously, the premium accounts do come with some added bonuses that do make it worthwhile for consistent traders.
To stay as up-to-date as possible, MGC Logic provides real-time information on all the assets they support. There is no need to have multiple websites open to track that information. It's a huge convenience for people who are trying to simplify their trading process, instead of making it more difficult than it has to be.
While there is no official word yet on new cryptocurrency possibly added in the future, history shows that MGC Logic is not afraid to do that from time to time. It would not be surprising at all to see the number of cryptocurrencies supported to grow to an even higher number in the next few years. It will depend on how the industry evolves. New options could emerge, or there could be some consolidation taking place.
Safety and Security
When dealing with any type of currency, safety and security is always stressed. MGC Logic does everything possible to make every client feel comfortable. Not only is privacy a major concern, but stressing security and confidentiality matters as well. The goal is to make sure every single trader feels they have nothing to worry about when all the platform. Any sort of hesitation can reduce the number of people who end up signing up.
MGC Logic collects data from clients like every other competitor. That data is only used to enhance the user experience and make the platform easier to use. They do not store or collect credit card data of any kind. When sensitive information is submitted, it is encrypted using SSL technology.
No private or confidential information will ever be shared by MGC Logic. They have no history of ever doing this, and they explicitly state that they never sell personal information to third parties.
Another great feature offered by MGC Logic is that everything is done on their secure platform. It is accessible with any browser, and the user-friendly interface is available on mobile devices as well. No matter where a person is located, they can log in to their account and stay on top of everything. Staying on a specific platform reduces the risk of any issues forming.
Along with all the proper procedures taken by MGC Logic, it's also encouraged to be responsible with sensitive information as well. Don't use unsecured web connections, public computers or other setups that might leave personal information vulnerable. Never share any information or passwords with anyone else. Also, MGC Logic will never ask for a client's password.
Fast and easy registration
The registration process is extremely fast and easy with MGC logic. All a person must do is click register on the homepage, then sign up for either a real or demo account. After filling out some basic information such as name, email address and account type, there will be a simple email verification process at the end.
It is worth noting that additional steps must be taken to make that first trade, make a withdrawal and other actions (more on that below). It's worth registering early to take a look around everything that is offered and familiarize a bit with the website setup. This makes the actual trading process much easier in the end.
Minimum deposit, leverage, spreads, and withdrawal
The minimum deposit to start trading with any new account is €500, $500 or £500. The initial sign-up is free and takes just a few seconds, but money needs to be put into the account before it can be used.
Deposits can be done in one of two ways. MGC Logic accepts credit and debit cards from MasterCard and Visa. Along with that, wire transfer options are available if a person feels more comfortable not using a card. It is a very fast process, allowing people to get started as quickly as possible.
Customer service is available 24 hours a day, seven days a week, so any additional issues can be cleared up in that way. The company is very good about making sure new traders understand the platform entirely, so no question is considered a bad one.
Two of the biggest draws of MGC Logic is their leverage and spreads. People can expect leverage of 1:100, which is amazing compared to most of their competition. It is not stated directly by MGC Logic, but plenty of people have seen great profits with this benefit.
Spreads can be as low as 0.1 pips. They also offer CFDs on several major cryptocurrencies, which helps with diversity. Currency pairs like BTC/USD and ETH/USD are the most popular choices.
To make a withdrawal, a few documents are needed for the first time. Each client must submit a proof of address, a copy of a credit card, and a photo ID. These documents serve as preventative measures taken to combat fraud. The last thing they want is to issue funds to the wrong person.